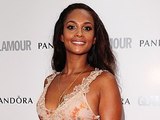 Alesha Dixon
has revealed that she hopes to have children eventually.
The
Britain's Got Talent
judge explained that, while she would like to have kids, she is currently happily single.
"I do want kids. But I'm quite happy not having children right now. I love the fact that I can live a spontaneous lifestyle. And I love a lie-in," she told
Marie Claire
.
She said that her friends find her "weird" because of her enjoyment of the single life.
"I've got friends who genuinely do (think I'm weird). They sit there and go, 'I need a man'. I'll have a go at them - 'You don't need a man, you need a hobby. You're just bored. Go and get a box set. Get over it'."
She added: "Babies smell amazing, but I'm not one of these women who smell a baby and go, 'I want one'. I see a dog over the field and go, 'I want one'.
"I hope I don't have something maternal missing."
Dixon also said that her
Britain's Got Talent
co-star Simon Cowell often makes jokes about her being single.
"The winding up does annoy me. Anyone who walks out on stage, whether he's 8 or 80, they'll go, 'Oh, Alesha, he'd be good for you'. I'm the butt of the single jokes."
Last year, the former Mis-Teeq singer said that
she had not dated "for ages"
.