Showbiz News
'Rogue Traders' host Dan Penteado charged with benefit fraud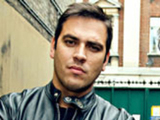 Rogue Traders
host
Dan Penteado
has been charged with committing over £24,000 of benefit fraud while working for the BBC.
The presenter, who exposes unscrupulous and fraudulent tradesmen for the consumer affairs programme, has not responded to letters from Bournemouth Borough Council on the matter and failed to appear for a court date yesterday (June 13), resulting in a warrant for his arrest being issued.
Penteado, who also works as a private investigator, allegedly claimed that he was a full-time student with a family in order to receive housing and council tax benefit between 2008 and 2012.
He was also working for
Rogue Traders
throughout that time on a salary that ranged from £6,000 to £16,000 over the years.
Johanne McNamara, prosecuting for Bournemouth Borough Council, told magistrates that Penteado had committed a "number of offences" amounting to benefit fraud.
"Some relate to failing to disclose a bank account which his wages were paid into,"
The Daily Telegraph
quotes her as saying. "Others relate to failing to notify a change in his circumstances when he was hired by the BBC."
A Dorset police representative said: "We can confirm that an arrest warrant has been issued for Mr Penteado over allegations of benefit fraud.
"It will go to our warrants' department as a normal investigation so we can try and serve it as soon as possible. We will obviously look to try and find out where he is."