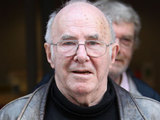 Clive James
has stated that he is losing his battle with cancer.
The legendary Australian broadcaster was
diagnosed with leukaemia
in 2010, and has said in a moving statement that he is "getting near the end" of his life.
"I've been really ill for two and a half years," he told BBC Radio 4's
Meeting Myself Coming Back
. "I was diagnosed with leukaemia then I had COPD which is a fancy name for emphysema and my immune system packed up. And that's just the start.
"I almost died four times and I swore to myself if I can just get through this winter, I'd feel better. And I got through the winter and here it is a lovely sunny day and guess what, I don't feel better.
"I'm getting near the end. I'm a man who is approaching his terminus. My tragedy now is that I'm so ill I can't get out so I'm a bit of a recluse.
"I keep thinking of things I might have done better and remember the good times of course. But mainly I remember the errors. It's my nature, it makes me almost ­impossible to live and work with."
Having been treated at Addenbrooke's Hospital in Cambridge, he explained that it is highly unlikely he will be able to travel to his native home in Sydney.
"I've been so sick I'm not allowed to fly. You couldn't get enough oxygen aboard a plane to get me to Sydney. I used to be in Australia for five or six times a year but now I can't go.
"The wistfulness is really building up and I'm facing the possibility I might never see Sydney again.
"I've still got an Australian passport, that's ­patriotism, loyalty, and that's also because I'm a masochist and I like being on the end of the longest queue for anything in Europe which is the security queue at Heathrow."
Archive on 4: Meeting Myself Coming Back – Clive James
will air on BBC Radio 4 on Saturday, June 23 at 8pm.