Showbiz News
Spears drops out of award ceremony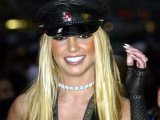 Britney Spears has dropped out of her hosting role at this year's Billboard Awards.
The singer, who recently split from husband Kevin Federline, was due to co-host the ceremony with Paris Hilton.
A source at
Fox
television network, which sponsors the event, confirmed: "She pulled out, she didn't give a reason. We really don't know the reason. But we're disappointed she backed out."
At this late notice, it is likely Hilton will present the Las Vegas event on her own next week.