1
Showbiz News
Tulisa Contostavlos spotted with ex-boyfriend Adam Bailey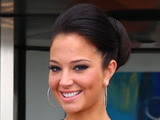 Tulisa Contostavlos
has been spotted with her ex-boyfriend Adam Bailey.
The
X Factor
judge was photographed kissing lapdance club owner Adam Bailey on the cheek in Islington, North London.
The singer
called off her engagement to Bailey in 2009
after he was linked to a violent incident the previous year.
Contostavlos is reportedly still good friends with her former partner, who was eventually acquitted of all charges related to the stabbing.
She was seen giving Bailey the keys to her purple Audi R8 convertible, worth £100,000, before he drove away, reports
The Sun
.
A source said: "They split up some years ago but are very friendly and affectionate with each other now.
"He's been driving her Audi, which shows how much she trusts him."
Tulisa's agent added: "Tulisa's been best mates with him for years, she's still best mates with him now."
Tulisa Contostavlos recently revealed that she was
secretly arrested in 2008 after fleeing the scene of the stabbing
.