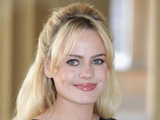 Duffy
has reportedly escaped unhurt from a fire at her home in London.
The singer-songwriter's luxury penthouse in Kensington went up in flames yesterday evening (October 3),
The Sun
reports.
Neighbours revealed that the 'Mercy' star rushed downstairs to warn them of the fire and to vacate the building.
Mohamad Razak - who lives in the flat below the singer - recalled how she banged repeatedly on his door to warn him of the danger, before rushing back upstairs to rescue her pets.
Describing her as an "angel", he also said that she was later seen crying on the road outside after most of her belongings were found ruined.
"She came down to me - she knows I have a child," he revealed.
"She said, 'There's smoke coming in my flat so it might be a fire - can you get out?'
"She was panicking - she was worried about other people. She took our phone and called the fire brigade.
"We all came down. She was just by herself. After she went up and got the cat and the dog."
He added: "She is a lovely girl. She is an angel. Who else would knock on everyone's doors?
"She was standing here all night, until 12 o'clock. She was shocked - she was very upset. She was shaking. There were tears in her eyes."
Fellow neighbour Maria McLeod told
The Independent
: "I gave her a cup of coffee and she said her cleaner was there and needed some too. She was lovely, just in shock."
It is currently unclear what started the fire inside the building. Over 60 firefighters were called to tackle the fire in St Mary Abbot's Terrace for over six hours.