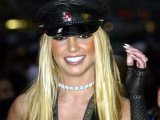 Britney Spears is losing fans at an alarming rate, according to the creator of one of her biggest websites.
Ruben Gray, webmaster of
WorldOfBritney.com
has been forced to close his website down, due to the declining number of the singer's followers.
"As Britney keeps losing her identity and credibility within fans and industry people, so is WorldOfBritney.com," Gray explained.
He added that he thinks Spears' career could be over in a matter of months, due to her behaviour and personal antics: "I think that WoB has had its run... its feet are not holding firm anymore, not because of my ability to run it, but because I believe Britney is unfortunately done."