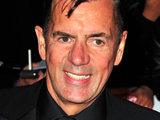 Dragons' Den
star
Duncan Bannatyne
has blamed the stress of his divorce for his recent heart scare.
The multi-millionaire entrepreneur was
rushed to hospital
earlier this month after suffering a suspected heart attack.
He was later
released from hospital
following a series of tests, which ruled out a heart attack.
"The businesses are all going really well. That's not a problem. It's the divorce. Divorce can be very stressful," Bannatyne told the
Daily Mail
.
Speaking of his collapse, he recalled: "I couldn't breathe and I fell to the floor. I was just in amazing pain around my chest and body. When the paramedics arrived, they started talking to me in a really calm way, so I did relax a bit and stopped panicking.
"It was very scary. I'm feeling much better now. Obviously, I've got the health club and spa, so I spent some time relaxing there and my personal trainer put me on a new training programme. I was still back to work after a couple of days, though."
Bannatyne, who is worth an estimated £85 million, split from Joanne McCue last year. The couple, who have two children, divorced in December after five years of marriage.
He previously
joked that he is too broke to invest on Dragons' Den
because of the divorce.
Digital Spy
breakfast show - watch Anna Williamson discuss the day's biggest stories including
Strictly
,
X Factor
and the music charts: