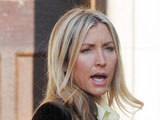 Heather Mills' decision to appear on US reality TV show
Dancing With The Stars
has angered disabled people.
Campaigners argue that the estranged wife of Sir Paul McCartney should refrain from using her blue disabled badge to park her Mercedes four-wheel drive if she is mobile enough to compete on the celebrity dancing contest.
Mills is regularly seen cycling and walking unaided near her home in East Sussex, and she has also been photographed skiing.
Kathy Gordon of the Brighton and Hove Federation of Disabled People said: "She has mobility and, morally, should refrain from using her blue badge when she doesn't really need to."