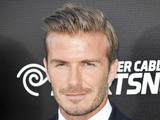 David Beckham
has reportedly been insulted by New Zealand prime minister John Key.
According to
The Sun
, Key spoke to a group of schoolchildren in Dunedin on Thursday, and told them that the English footballer is "as thick as bats**t".
It is alleged that the comments came during a story about Key's son spending 45 minutes in Beckham's company when he played with an invitational side for a 2008 exhibition match.
Key apparently said that the 37-year-old was very friendly, but went on to suggest that he was less than intelligent.
Beckham was unavailable for comment, while the office of John Key has declined to speak on the matter.
> Victoria Beckham, David Beckham planning to move to New York?
> Russell Brand admits David Beckham crush: 'I'd eat food off his body'
> David Beckham, Victoria Beckham 'enrol Harper in dance classes'