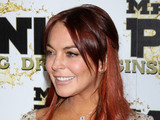 Lindsay Lohan
may have her probation revoked when criminal charges against her are brought forward in court.
The
Liz & Dick
actress is
accused of lying to the police about a car crash in which she was involved this June
.
Lohan's probation is likely to be revoked at arraignment - or a formal reading of the charges - by a Los Angeles County Superior Court judge,
TMZ
claims.
She is currently on informal probation for misdemeanor theft, and
the sole condition set down by Judge Stephanie Sautner is that Lohan abides by the law
.
The case will reportedly be given to Judge Jane Godfrey, who is expected to send the matter for full hearing based on the grounds that breaking the law is a violation of Lohan's informal probation terms.
It was reported earlier this month that
prosecutors intend to file the charges against Lohan as a misdemeanor
.