X Factor
judge
Tulisa Contostavlos
has continued to hit back at her "haters [and] the negative media" in an explosive Twitter rant seemingly about her much-scrutinised
relationship with footballer Danny Simpson
.
The 'Young' singer said that she would not become "a shadow of [her] former self" by "shuttin up" about "twisted" stories on her relationship with the Newcastle United player, whose ex-girlfriend
branded Contostavlos a "homewrecker"
upon announcing that she is pregnant with his second child.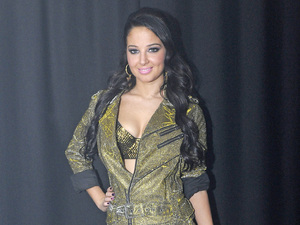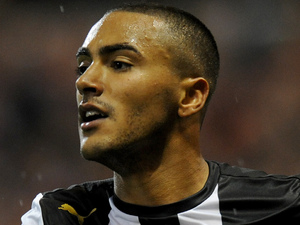 In the series of tweets, Contostavlos told her critics to "bite" her and declared that it "takes serious balls" to be in the public eye, before telling her fans that they "keep [her] alive".
She wrote
: "They want me 2 shut up...be a lifeless robot that plays their shallow media games..be everything that's expected..a shadow of my former self...Not say what I think, feel or know, in the fear that they might destroy me 4 it.
"Any1 can write a twisted story,but it takes serious balls...To b this much in the public eye & scrutinised & still be myself..COMPLETELY!If u think u know me from what u read, u know nothin at all."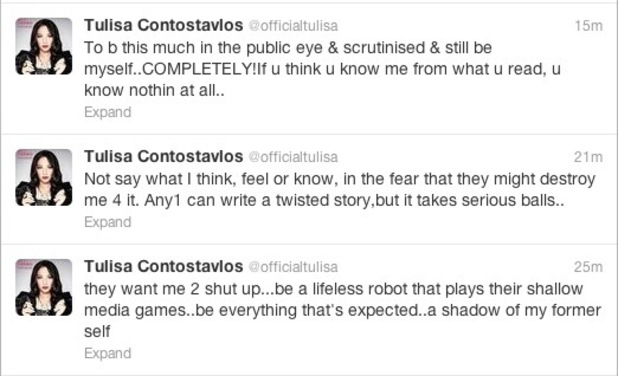 She continued: "So my message 4 the haters n the negative media is..as 4 shuttin up..NEVER GUNA HAPPEN!!! that's what makes me tulisa! SO U CAN ALL BITE ME!
"N my message 4 my fans, supporters n ndubletts is...THANK U..U KEEP ME ALIVE! don't live a lie 4 any1 no matter they say stay true 2 urself...#REALPEOPLE #REALLIFE #REALSTORIES"
Contostavlos then finished off her tirade with the breezy message: "Rant over..on with the day, feeling good 2 ; ) 'dougies' x"
She earlier called Simpson's ex-girlfriends
"lying skanks" and "sick in the head"
for selling their stories to the press.
Contostavlos and Simpson have
vowed to make their relationship work
, with the sportsman saying he sees them being "long-term".
Tulisa through the years:
Copyright: Rex Features Julian Makey/Rex Features