Showbiz News
Doc crew angry with "rude" Posh?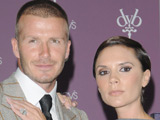 The ABC crew making a reality documentary about Victoria Beckham is reportedly fed up with the "picky, demanding and rude" star.

The show is being filmed as the star prepares to move across the Atlantic with husband David.

A show source told US magazine Star: "We think she's full of herself and not very nice. She's very picky, demanding and rude. And she was mean to the assistants, too."

"She waltzes around with her icy attitude," continued the source. "People will walk up to her and say, 'Welcome to America', or, 'Good luck with the move', and she doesn't even stop to talk to them.

"The show is designed to make her a star in the States, but she's dreaming if she thinks that's going to happen. She's coming off as a grade-A bitch!"