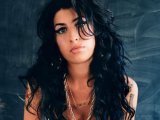 What springs to mind when you think of Amy Winehouse? Her voice? Her tunes? Her fondness for a tipple? Perhaps you're mesmerised by her Dusty Springfield-meets-Marge Simpson hairdo, or maybe you can't get over the fact that "they tried make her go to rehab and she said no no no". But there's more to Winehouse than meets the eye. We've dug deep to uncover ten fascinating titbits about the Brit award-winning warbler so that you can stay ahead of the pack. Read on to find out more...
1.
Amy won a scholarship to the Sylvia Young Theatre School, where everyone from Denise Van Outen to Billie Piper learned to flash their grins, at the age of 12. She was later expelled for "not applying herself".
2.
Amy later attended the Brit School in Croydon, where The Feeling (hurrah!) and Katie Melua (boo!) were taught to hum and strum.
3.
Amy used to work as an entertainment reporter but quit because she found it boring. Hmm. Surely she's talking about some other job?
4.
Amy's grandmother used to date Ronnie Scott, the legendary saxophonist and jazz club owner.
5.
Amy has 11 tattoos. Her first? A depiction of Betty Boop on her bum.
6.
Amy might like to kiss a lady one day. "I like pin-up girls," she says, "I'm not a lesbian though - not before a sambuca anyway."
7.
Amy has recorded a duet with Mutya Buena for the former Sugababe's solo LP.
8.
Amy's favourite cocktail is a 'Rickstasy'. It's three parts vodka, one part Southern Comfort, one part banana liqueur and one part Baileys. Eek! She advises adventurous drinkers to "sit down and stay down until the birds start singing" once they've necked one.
9.
Amy is not a fan of Bono. When the U2 frontman accepted a gong at the Q Awards last year, she heckled him with taunts of "Shut up! I don't give a f**k." That 'voice of a generation' tag has never seem more accurate.
10.
Amy wrote her hit single 'Rehab' by accident. She was walking down the street with Mark Ronson, her producer, talking about her friends' attempts to check her into an alcohol abuse clinic, when she started to riff the opening line: "They tried to make me go to rehab and I said no, no, no." Ronson asked her whose song she was singing, so she replied: "I just wrote it off the top of my head. I was just joking."