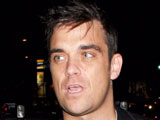 Robbie Williams is leaving the USA to return to Britain and live with his friend, it has been reported.
The singer has lived in Los Angeles for five years but will soon come back to shack up with pal Jonathan Wilkes and his family, according to the
News of the World
. They are said to be looking at moving to Chiswick in west London and are willing to spend up to £2.6 million.
"Robbie is coming home to be close to the people who love him," said a source. "He wants to have some fun with his friends and concentrate on getting rid of his demons.
"Some of the best days were back when he lived with Jonathan in their bachelor pad together. He's looking forward to a life of golf and football for a while and being with his mates and family."