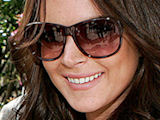 Lindsay Lohan was arrested on suspicion of drink driving yesterday.
The
Mean Girls
actress lost control of her Mercedes and hit a kerb at 5.30am, according to the Beverly Hills Police Department.
Police located her at hospital, where she had been taken to receive treatment for minor injuries. The 20-year-old was arrested but not held.
A spokesperson for the police also confirmed that a small "useable" amount of cocaine had been discovered in Lohan's car.
Lindsay - who spent time in rehab earlier this year - will have to appear in court on a date which has not yet been announced to the press.