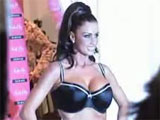 Damien Hirst is to use Jordan and her husband Peter Andre as models for his new art exhibition.
The artist has reportedly requested that the couple pose for him for a sculpture that will aim to represent modern celebrity.
A source told the
Daily Star
said: "We hear [Hirst] wants Peter to pose and allow him to use their image, obviously because [Jordan] had surgery to enlarge her breasts.
"But also because fame is such an integral part of their lives. Everything they've been through has been filmed – their wedding, their joy and even their rows."
Jordan has apparently expressed her delight at the idea.