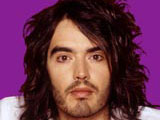 Russell Brand has been voted the world's sexiest vegetarian.
The TV presenter beat off stiff competition from Morrissey, Tobey Maguire and Martin Shaw to land the prestigious honour for the second year running.
The poll was organised by animal rights group PETA.
Joss Stone, Anne Hathaway and Naomi Watts are among those competing for this year's female title, which will be announced later this week.