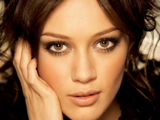 Hilary Duff and Lindsay Lohan have finally made amends and decided to call it quits on their ongoing rivalry.
The former friends famously fell out after they were both two-timed by singer Aaron Carter, but they have now finally agreed to let their differences rest.
It was the
Mean Girls
actress who made the first move at a Hollywood nightclub, as Duff revealed to
Stella
magazine: "We're not best friends, you know? But we were out at Teddy's one night and she just came up and said 'I think we should just talk because I'm a nice girl and I know you're a nice girl'. It's nice to be friendly acquaintances."
The teen star has also been betrayed by socialite Nicole Ritchie after she stole her boyfriend, Good Charlotte frontman Joel Madden. But she admitted she does not want to make peace with her, she said: "I've never met her, but how would it be for anyone? That's all I can say. No one would be happy about it."