Showbiz News
Ten Things You Never Knew About Lindsay Lohan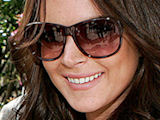 Even if you've never seen one of her movies – and, if you're over the age of 16, total ignorance of her acting career is entirely acceptable – Lindsay Lohan will have invaded your thoughts of late. Over the last 12 months, dodgy driving and incessant partying have turned poor little L.Lo into a tabloid editor's wet dream. But, aside from the frequent trips to
rehab
, the
arrests for DUI
and the
slanging matches
with Hilary Duff, how much do you know about Hollywood's newest wild child? Read on to get to know the inimitable Lindsay Lohan a little better.
1.
Before she made it in the movies, Lindsay appeared in over 60 TV adverts. The pre-Hollywood Lindsay sang the praises of brands including Pizza Hut, Wendy's and – alongside Bill Cosby – Jell-O.
2
At the age of seven, she appeared on the
Late Show With David Letterman
dressed as a heap of garbage. It was all in the name of celebrating Halloween, apparently.
3.
Lindsay has suffered from bronchial asthma since she was two-years-old - not that it's stopped her from indulging in this
cheeky pastime
.
4.
But has she ever taken a puff on a naughtier type of cigarette? "I'm not going to deny the fact that I've tried pot," she says. "I hated it."
5.
Lindsay is the youngest celebrity ever to be immortalised in wax at Madame Tussauds in New York City.
6.
To what does Lindsay attribute her media profile? "Drama sells...But you come into this industry, and you want that, you want to be written about, to an extent, obviously," she reckons. "But you're putting yourself in a place where people are going to put you on a pedestal, and sometimes they build you up to try to take you down. That teaches you to work harder."
7.
Lindsay owns over 5,000 pairs of shoes. A starring role in the Imelda Marcos biopic surely beckons.
8.
Lindsay wants to break away from her wild child reputation. "I want to win an Oscar. I want to be known for more than, like, going out," she insists. "Being known for being the party girl - I hate that. I bust my ass when I'm filming so when I have time off, yeah, I like to go out and dance."
9.
Does Lindsay have a leztastic side? "I've got more of a crush on Angelina than Brad," she teases.
10.
How does Lindsay stay so trim? "This is something I do, and people think I'm a little bit crazy for it," she confesses. "I just drop and do push ups. And leg lifts. I'm always doing push ups - because they said I have really skinny arms once - and I like doing push ups. And my brother used to make fun of me because I couldn't do push ups."