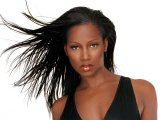 R&B star Jamelia has spoken about acting projects that she has lined up.
The 'Superstar' singer, who recently
split
from her partner Darren Byfield, has agreed to play a stripper on the big screen.
"I've been offered two film roles and a part on the West End stage," Jamelia told
The Sun
. "In one of the movies I play a stripper. I'm not getting a stunt double for it. I had one for one of my videos when I was writhing around on the bed. But everyone thought it was me anyway so I thought I may as well do it myself."
She added: "It's the one project I've got on that I'm most excited about."