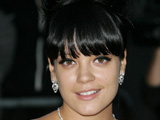 A drunk Lily Allen was carried to the door of the Groucho Club after a night partying with her friends in London.
The singer had earlier attended the fashion launch of Chloe's Summer 2008 collection at Shoreditch House with Miquita Oliver and Camilla Al Fayed.
Allen then hit the famous nightspot with her friends, where they carried on drinking until 2am.
The star was photographed leaving the club with the assistance of a male friend, who was holding her body up.
Allen went back to Al Fayed's home, where they reportedly carried on celebrating until 4.30am.