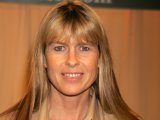 Steve Irwin's widow Terri has offered Britney Spears a chance to connect with nature in Australia.
Irwin said her family has been following the singer's recent troubles and believes she would benefit from a break.
She said: "Bindi (her daughter) was the one who said: 'People who are having trouble should go in the [Australian] Bush with us when we do our crocodile research work.'
"If Britney and her family want to go in the Bush with us, we'd love to have them."
However, the Irwins' business manager John Stainton denied all knowledge of such an offer, telling
AAP
: "I think she must have been misquoted."
Irwin recently
claimed
that her late husband spoke to her through celebrity medium John Edward.
The crocodile hunter and conservationist died in September 2006 after being struck in the chest by a stingray while diving on the Great Barrier Reef.