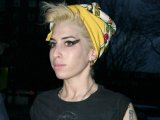 Amy Winehouse has been caught on video allegedly taking crack cocaine and ecstasy.
The clip, which has been posted on
The Sun
's website, appears to show the singer using a crack pipe during a party at her East London home on Friday.
She also claims to have taken six Valium to "bring myself down" before snorting cocaine and powdered ecstasy during the 19-minute session.
A friend is quoted as saying: "The video shows a woman completely out of control. Her family and her few real friends have begged her to pull herself from the brink many times.
"But here is proof she has pressed the self-destruct button."
The clip is believed to have been filmed shortly before Winehouse visited husband Blake Fielder-Civil in court last Friday, where she was reported as seeming unsteady on her feet.
She later
shocked
onlookers after swearing and threatening paparazzi in the street.
Her management have yet to comment on the footage.