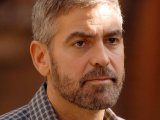 George Clooney has revealed that he finds Geri Halliwell "inspirational".
The actor has invited her to accompany him on his UN mission to Darfur when the band's reunion tour ends.
He explained: "She was always my favourite Spice Girl. I loved her feisty approach and the fact she wasn't afraid to have an opinion.
"Her work with Unicef and [sexual health charity] Marie Stopes in the third world was inspiring. And her address at a UN Youth summit in 2000 was brave - it's so easy to not get involved and she just gritted her teeth and went for it."
A source told
The Daily Star
: "George really admires Geri's tenacious attitude."
Halliwell recently
claimed
that it is unlikely that the Spice Girls will make a profit from their tour.