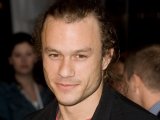 The cause of Heath Ledger's death will not be determined for at least 10 days, the New York Chief Medical Examiner has announced.
Ledger was found dead at his apartment in New York
yesterday
. The New York Police Department confirmed that drugs had been found in the vicinity of the actor's bed.
A 90 minute autopsy was conducted on Ledger's body this morning, but the results were inconclusive. Tissue and toxicology tests will now be carried out, and the results are expected to be released in "10 days to two weeks''.
A number of Hollywood stars have
paid tribute
to the actor, who was best known for his role in
Brokeback Mountain
.