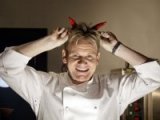 Gordon Ramsay has punished a chef in one of his kitchens by making him cook naked for a day wrapped in cling-film.
The TV chef was so angry when he discovered his employee had been stealing recipes that he covered him in the see-through wrapping and watched him "sweat like a pig" in the kitchen.
Ramsay told
Virgin Mobile Bites
: "We started noticing that all our recipes were going missing - and there's a database of 5,500 of them.
"We followed him on the CCTV and found out he was sifting all the ideas out of my kitchen. So I stripped him stark b*****k naked and wrapped him in cling-film.
"It's probably the nastiest thing I've done. He sweated like a pig. I don't know why he did it but then it's pretty hard to talk when you're being wrapped in cling-film by 25 cooks."
He added: "If you're going to work for a chef, don't be so ignorant in trying to steal.
"I'd happily give out my recipes, but you still won't cook a dish as good as me – the thing about this job is that it's from the heart."