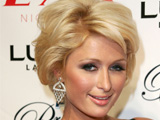 German company Simba Toys has confirmed it is creating toy dolls based on Paris Hilton.
The US socialite has helped style the products, which will come with silver highlights, mini-skirts, evening dresses and a mini MP3 player.
Juergen Deschner, the firm's executive, has confirmed the dolls will go on sale around Europe later this year.
The first dolls were sold at Germany's Nuremberg Toy Fair on Wednesday.
Hilton has signed a 2-year deal with Simba.
The
Simple Life
star previously turned down an offer to have a
sex doll
made in her image.