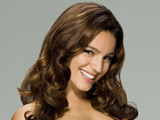 Kelly Brook
has said that men should be more sympathetic about the pain women go through with bikini waxes.
The actress said that she was happy to undergo the procedure to please her fiancé Billy Zane, but described the process as "the worst thing in the world".
She told the
Daily Express
: "Believe me, having your bikini line waxed is the worst thing in the world.
"The worst bit is the ingrowing ones you have to pop out with a tweezer afterwards. They are killers.
"This is what us girls go through for men - they really should be more appreciative."