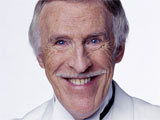 Bruce Forsyth
made his small-screen debut at the age of 11 and has been a fixture on British TV since the 1950s. With his current hosting duties on BBC smash
Strictly Come Dancing
, he's as busy as ever and claims he has no plans to retire just yet. As he celebrates his 80th birthday with a lavish party at the Dorchester Hotel,
DS
takes a look back at the life and times of the legendary entertainer.
Forsyth was born Bruce Joseph Forsyth-Johnson in Edmonton, North London, where his dad ran a garage business. He harboured ambitions to be an entertainer from an early age and made his TV talent show debut at 11. By 14, he had left school and was pounding the music hall circuit as 'Boy Bruce - The Mighty Atom', an act which included dancing, singing and playing the ukulele. He was on the verge of giving up showbiz altogether when he finally landed his TV break in 1958 as the host of ITV show
Val Parnell's Sunday Night at the London Palladium
. He presented the variety spectacular from 1958 to 1960, then again for three months in 1961, becoming an overnight celebrity and the highest paid entertainer on the box.
Although he still made occasional appearances in his beloved variety specials, Forsyth's fate as a gameshow host was sealed when he presented the series for which he is perhaps most famous.
Bruce Forsyth's Generation Game
, which ran on the BBC from 1971 to 1977 and returned in the 1990s, also introduced him to second wife Anthea Redfern (of "Give us a twirl" fame), who appeared as its hostess.
He then moved to ITV and a plethora of gameshows followed, including
Bruce Forsyth's Play Your Cards Right
(1980-87, 1994),
You Bet!
(1988-90) and
Bruce's Price is Right
(1995-1999), as well as 65 episodes of
Bruce Forsyth's Hot Streak
in the US in 1986. These shows spawned his numerous iconic catchphrases, including "Didn't they do well?", "Good game, good game", "Nice to see you, to see you (Nice)" and "Points mean prizes - what do points mean? (Prizes!)".
The second run of
The Price is Right
was axed in 1999 and a return to his variety roots in
Tonight at the London Palladium
failed to attract viewers in 2000. However, a guest host spot on
Have I Got News for You
in 2003 revived Forsyth's fading career, bringing BBC gameshow
Didn't They Do Well
in its wake. He then landed a presenting job on Saturday night ratings smash
Strictly Come Dancing
. Five series later, the popular show has been a huge late-career success for the entertainer.
Forsyth was awarded an OBE in 1998 and a CBE in 2006, and a BAFTA tribute was aired in 2005. Now a great-grandfather, he has three children first wife Penny Cartwright, two with Redfern and a son with third wife Wilnelia, an ex-Miss World 30 years his junior. As for retiring, he said there are no current plans. "I always said I'll pack it in when I've lost the buzz," he recently revealed, adding: "I still get the buzz."
> Click here for more pictures from Bruce's career
Bruce Forsyth and Dudley Moore, 1967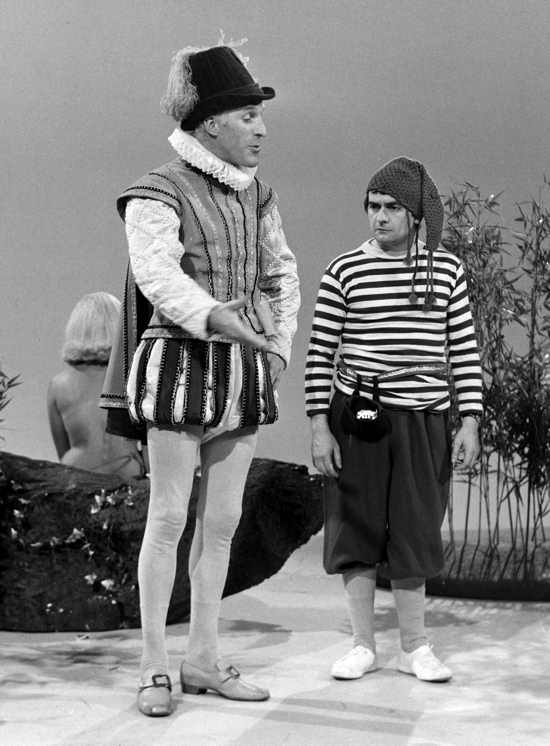 > Click here for more pictures from Bruce's career