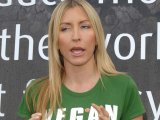 Heather Mills has been approached to host her own TV cookery programme, according to a report.
The estranged wife of Sir Paul McCartney has told friends that she cannot wait to share details of her vegan lifestyle with viewers. She also hopes that the show will help to improve public perception of her.
"Heather thinks a cooking show will give her a caring, sexy image like Nigella [Lawson]," a source told the
Sunday Mirror
. "She is passionate about being a vegan and loves being in the limelight... she is determined to be a big star."
Mills has also revealed that she is keen to follow in the footsteps of Oprah Winfrey by launching her own chat show.
A friend explained: "Heather is talking about being the next Oprah Winfrey. She hopes a TV career will show she can cope emotionally and financially without Sir Paul."
Heather's skills in front of the camera were once praised by Larry King after she appeared as a guest host on his US programme.
"Heather was a smart, charming and gracious guest host," King said. "She was very well prepared. I had no doubt! I would love for her to be my resident host."