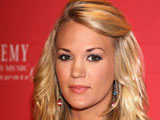 Carrie Underwood
has revealed that she and Chace Crawford ended their relationship by text message.
Rumours
that the couple had split first surfaced in February when the
Gossip Girl
star was alleged to have kissed a girl at an LA club.
Underwood has now confirmed that they have broken up but said she felt no bitterness towards her ex, whom she started dating last July.
She told
Extra
: "It was completely mutual. We're both fine. We broke up over text so it's like 'Peace out'.
"It just didn't work. We both knew it didn't work and no hard feelings at all whatsoever... It's no big deal."
The singer added that having a relationship in the public eye was difficult, saying: "People always make a lot bigger deal of things than they actually are."
Crawford's sister Candice said the actor would be fine following the split, telling
People
: "He was upset about the break-up. It's always hard when you lose a relationship. We love Carrie, too. They're dolls and they'll both do well."