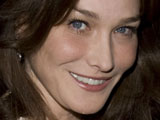 A nude photo of
Carla Bruni
has sold at auction for £46,000.
Michel Comte took the photograph of the former model, who is now first lady of France, in 1993.
Christie's auction house in New York revealed that the sum was more than 20 times the amount expected.
The picture was bought by an anonymous bidder on behalf of a Chinese collector.
Christie's spokesman Rik Pike credited the "media and the level of international interest for this photo" with attracting a much higher price than anticipated.
Cash from the sale will go to Swiss charity Sodis, which provides clean drinking water for undeveloped countries.
A nude photograph of Brazilian supermodel Gisele Bundchen sold for £96,000 at the same auction, while snaps of Brigitte Bardot and Kate Moss fetched £90,000 and £48,500 respectively.