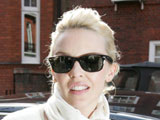 Olivia Newton-John
has revealed that she offered Kylie Minogue support in dealing with her cancer.
The
Grease
actress, who beat her own battle with the disease in 2002, claimed she chatted "a few times" with the singer when she was diagnosed three years ago.
She is quoted as saying: "After Kylie was diagnosed, we did talk a few times and I told her, 'I've been there and I've made it, and if you ever want to ask me anything, you can.
"She seemed to have a really good support group and attitude, which makes a huge difference. I remember being in a restaurant in Australia after being diagnosed, and a woman came up to me and said, 'I had cancer 20 years ago and I'm fine.'
"That was a huge thing and it gave me a really positive message - so if I can do that for someone else, then I'm delighted. After all I've been through, I'm just so grateful to be here."
Newton-John is currently participating in a 21-day charity walk on the Great Wall of China for a Cancer Treatment and Wellness Centre in Melbourne, Australia.
Other celebrities taking part include Cliff Richard, Joan Rivers and Dannii Minogue.