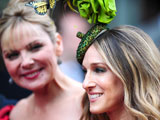 Feuds between
Sarah Jessica Parker
and her
Sex And The City
co-stars reportedly threatened the movie's world premiere on Monday.
According to the
Daily Mail
, the long-rumoured rivalry between Parker and Kim Cattrall is still going strong.
Cattrall allegedly refused to allow her driver to drop her off at the staff entrance of London's Claridge's Hotel on Sunday after she found out Parker was using the ballroom entrance.
An insider said: "It's that bad. Kim can't stand her. It's no secret among those who worked on the film. But of course both are professional and have not let the rivalry get in the way of doing the public face of the job."
Cattrall also refused to sit through the film with her fellow leading ladies on Monday, instead opting to have dinner with Mario Cantone (Anthony Marentino).
The newspaper reports that a spokesman initially said all four women had watched the movie, but changed his story when informed that Cattrall had been snapped leaving a restaurant. He could then be heard muttering to someone nearby: "They've got pictures of Kim going out for dinner. What are we going to do?"
Meanwhile, Cynthia Nixon was overheard commenting on Parker's tall Philip Treacy hat, saying: "What was SJP wearing on her head? What was going on there?"
A source added: "There's not a lot of love lost between them either."
> In Pictures: Sex And The City premiere