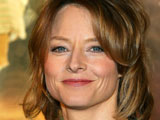 Jodie Foster
has reportedly split from girlfriend Cydney Bernard.
The couple are believed to have been together for around 14 years and Bernard has adopted Foster's children Charles, nine, and six-year old Kit.
The news comes six months after the actress
went public
with the romance for the first time by paying tribute to her "beautiful Cydney" during a speech in LA. She had previously resisted pressure from gay rights groups to talk about the relationship.
A source told the
National Enquirer
: "Jodie breaking up with Cydney is shocking. Right now it's the best kept secret in Hollywood, and it's not just because Jodie is legend and an intensely private person, either.
"She and Cydney have been together for so many years and have two children together, [so] the potential fallout and legal wrangling from this split could be monumental."
The pair hooked up on the set of Foster's 1993 film
Sommersby
, on which Bernard was a production coordinator.