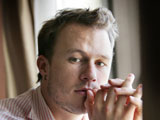 Late stars
Heath Ledger
and Steve Irwin have been included in the Collins Concise English Dictionary.
The pair join comedian Russell Brand and F1 star Lewis Hamilton in the latest edition.
Mini biographies of
Muriel's Wedding
actress Toni Collette, boxer Joe Calzaghe and Australian author and broadcaster Clive James also appear.
The dictionary is now available online for the first time.
A spokesman said: "We cannot put in every celebrity or sportsman or politician - they have to be very well known.
"Heath Ledger and Steve Irwin were included because they have been in the news so much since they died."
Ledger passed away from an accidental overdose of prescription drugs in January. Crocodile hunter Irwin died in September 2006 after being struck in the chest by a stingray while diving on the Great Barrier Reef.