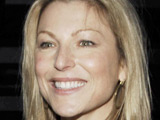 Tatum O'Neal
is to enter rehab following her
arrest
for possession of crack cocaine.
The former child star was stopped by police after she was spotted exchanging money with a man near her New York home on Sunday night.
Her lawyer rejected a Manhattan Criminal Court judge's recommendation that O'Neal have two days of drug counselling, choosing instead to find her a suitable rehab programme.
A law enforcement source said: "She's going to go to her own, high-priced, out-of-the-spotlight rehab to get clean - again."
The actress, daughter of screen star Ryan O'Neal, "laughed and chatted" throughout her hearing, claims the
New York Daily News
.
The 44-year-old was the youngest person ever to win an Oscar when she scooped the best supporting actress gong for her role in
Paper Moon
at the age of ten.
She will next appear in court on July 28.