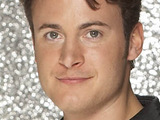 Gary Lucy
is reportedly considering taking on the role of Kurt Cobain.
The former
Bill
actor, who is currently appearing in
Dancing On Ice
, is said to believe that portraying the Nirvana frontman would be something "totally different".
The Sun
says that the part is in
Kurt and Sid
, a play about a fictitious meeting between Cobain and Sex Pistols star Sid Vicious hours before Cobain's suicide.
"Playing Kurt Cobain would be far removed from the glitz and glamour of doing
Dancing On Ice
," a source said. "Gary wants a new challenge and this would certainly be that."
Shaun Evans has previously
appeared
as Cobain in the play.