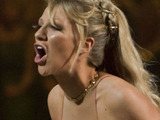 The father of
Chloe Madeley
's ex-boyfriend has hit out at the
Dancing On Ice
star for dumping his son.
Last weekend, it was
claimed that the 23-year-old had ended her relationship with Glenn Crickmar
and was now dating actor Sam Attwater - who won the ITV1 skating competition.
"Glenn is shocked but he won't speak about it. It came so out of the blue," Crickmar's father Kevin told
The Mirror
. "One minute she and Glenn are posing happily in
Hello!
magazine and the next she's with Sam. Of course, he's confused and upset.
"And, of course, I am angry as a father. No one likes to see their child upset but it's up to them to sort it out."
He added: "I will say it's mean for somebody to do that. I've met Chloe and I have my opinions but I don't want to say anything else and then get told off by my son."
Madeley and Attwater have reportedly nicknamed themselves 'Chlam', after combining their two names.
Watch our recent interview with Chloe Madeley below:
> Chloe Madeley linked to 'This Morning' role