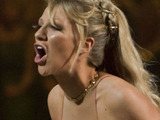 Dancing On Ice
couple
Chloe Madeley
and Sam Attwater have publicly condemned the author of an abusive message sent to the former's Twitter account.
Madeley, who
allegedly dumped her partner Glenn Crickmar to begin a relationship with the ex-Eastenders actor
, informed her Twitter followers that she had received a nasty surprise
when logging on to the social networking site today.
She posted: "Woke up to read the meanest tweet I've had in a long time! tempted to RT but the language isn't ideal! (sic)"
Meanwhile, Attwater leapt to his partner's defence by writing on his profile: "Certain people shouldn't be allowed on twitter! I can only imagine what these people who write this stuff are like! A disgrace!!!!"
As messages of support came flooding in from their fans, Madeley later tweeted: "Love my twitter bubies! Ok, time to get someone bacon and pancakes before his head explodes!"
The couple, who met on the sixth series of the ITV1 skating competition -
eventually won by Attwater
- have been holidaying in New York after completing a
Dancing On Ice
national tour.
Refusing to let the hateful message dampen their romantic break, Attwater later announced: "Just at JFK with @chloemadeley loved new York. Had an amazing time but time for some sun. Caribbean here we come! X."
Madeley was previously
blasted by Crickmar's father for the "mean" way she ended their relationship
.
Watch our recent interviews with Chloe Madeley and Sam Attwater below.