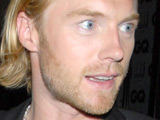 Boyzone's
Ronan Keating
has claimed that reality TV judge Dannii Minogue is past her best.
The boyband star told
The Mirror
: "She hasn't got the X Factor anymore."
Keating's bandmate Stephen Gately was once accused of singing "through his nose" by Minogue.
Responding to those remarks, Gately said: "I say it's better than speaking through your a**e! We blackballed her. We don't like her anymore. We never liked her."
Keith Duffy added: "Dannii was absolutely beautiful in her day, she was gorgeous.
"She had to live in the shadow of her older sister all the time. She's trying to compete with that; she's had whatever done to herself.
"Age is an awful thing to all of us. We all get older - gravity kicks in."
> Click here to read our interview with Boyzone