Reality TV News
Louis Walsh: 'Brucie's time is finished'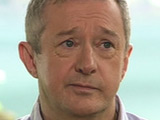 Louis Walsh
has said that 82-year-old Bruce Forsyth is finished in the entertainment industry.
The
X Factor
judge was responding to
recent remarks
from Forsyth that the reality talent show was "not entertainment" and "can be embarrassing at times".
Walsh, 57, told the
Evening Standard
: "Brucie is too old. He's from a different era. He shouldn't even be alive at his age.
"He doesn't know anything about young people or modern entertainment. His time is finished."
ITV1's
X Factor
and BBC One's Forsyth-hosted
Strictly Come Dancing
have previously
competed
in the TV schedules, with both predicted
to clash
again this year.