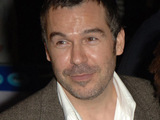 Steve Brookstein
has criticised the "bully culture" of the tabloid press and said that he will not give up his music career.
A number of newspapers have reported that Brookstein was forced to cancel a show at a Caffe Nero in Ipswich town centre because only a handful of people turned up to the performance.
On Twitter today, Brookstein wrote: "For the reporter at
News Of The World
who called my agent this morning, No I won't give up. Today Caffe Nero Nottingham and Sheffield :0) (sic)."
The newspaper's showbiz editor Dan Wootton then quipped: "Are you working behind the counter?"
Brookstein responded: "
News Of The World
>>> bully culture continues... Unless you play the game tabloids play they bully you. They can't scare me, I'm a coward. I'm always scared!
"Just want to do things my way. New musicians need places to showcase their stuff. Caffe Nero support new amazing artists."