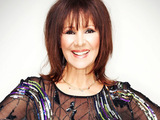 Choreographer
Arlene Phillips
has claimed that her breasts are her best physical feature.
However, the
So You Think You Can Dance
judge, 66, admitted that she is not confident enough in her body to pose in a bikini.
"I wouldn't wear a bikini. I'd never do a Helen Mirren. There are some bits, like my thighs and my bum, that I don't like," she told
The Mirror
.
"I have strong dancer's thighs. I'll always have a bum - that ain't ever going to change. But my best asset is my boobs. My untouched boobs are all my own. I'm proud of them."
Meanwhile, Phillips insisted that she will not have Botox injections in her face again.
"People are obsessed with my face and I feel like they're looking to see what I've had done," she said. "I had Botox years ago but it was too painful and positively unpleasant. It left me black and blue... I'm needle-phobic as it is.
"If anybody looks closely at me there are plenty of wrinkles and I cover up everything with make-up. I don't want a frozen face."