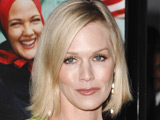 Jennie Garth
has turned her lawn into a vegetable patch so that her three daughters can learn the benefits of eating healthy.
According to
WENN
, the
90210
star grew up on a farm and convinced her husband to let their family try growing their own fruit and vegetables.
"I recently, with my girls, planted a very small garden in our frontyard of our city house and I don't really care that everyone can see it because I have to have a garden somewhere and they love it," she said.
Garth added that the experiment is working and her children are loving the experience.
"We have lettuce, tomatoes, cucumber, sugar snap peas and strawberries. The girls love getting dirty and picking vegetables they want to grow every year and watering them and growing them. I let them help me cook them, which puts a different perspective on it."
She also insisted that her kids are now really invested in what they eat, adding: "I'm not just serving the food to them and forcing them to eat it. They really are invested and they care about what they're eating. Kids like the vegetables when they're raw, actually, and they can dip them into ranch dressing or chocolate; I don't care as long as they're eating their vegetables!"