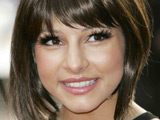 Former
Emmerdale
star
Roxanne Pallett
has revealed that she was left embarrassed after a bar's bouncer asked her for ID on her current Pringles tour.
The 26-year-old actress has been hosting promotional events across the UK after
signing
an endorsement deal with the snack brand.
Reflecting on a recent incident which occurred at a nightspot in Birmingham, Pallett told the
Manchester Evening News
: "It is the story of my life. I'm 27 this Christmas, yet we had to fight with the bouncer to convince him I was over 18. I didn't have any ID on me. Everyone was walking past me getting in and I was hosting the flipping event - my picture was up on the door.
"I didn't do the diva thing and say, 'Do you know who I am?' I'd never say that. But I was like, 'I can Google myself to show you my date of birth - it is on Wikipedia'. I got in eventually, but it was so embarrassing."
Pallett, who played domestic violence victim Jo Sugden on the ITV1 soap, added that the Pringles tour has been ill-fated from the start.
She said: "At each event I've had a stroke of bad luck. In Dublin, no-one turned up because it was a Monday night. And then here, in Manchester, I went to the wrong bar at first. There were a load of guys laughing at me thinking I had been stood up!"
> Roxanne Pallett picks up a Pringle