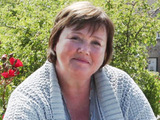 Emmerdale
star
Pauline Quirke
has revealed that she is on a diet to lose over 8 stone in weight.
The actress - Hazel Walsh in the ITV soap - told
The Sun
that she has so far lost 2 stone in the first five weeks on the LighterLife weight-loss programme.
Quirke admitted that she had previously lost weight two years ago but put it back on after quitting her diet.
"I lost 3st and remember looking at myself in the mirror after slipping into a jacket that I hadn't fit into for a decade," she said. "I could look at my reflection for the first time in years and think, 'This is the real me'.
"But then I made the foolish mistake of going off the diet and slowly the weight crept back."
However, the determined 51-year-old continued: "This time it is for good, I'm never going back. Although I haven't told anyone apart from my family about my diet until now, a few people have commented I look slimmer. A compliment like that tastes better than any meal. I want to be able to wear nice clothes and feel completely happy about the way I look."
Admitting that she has reached the "heaviest I've been", she told the paper that the biggest wake-up call came when she was told that she needed a hip replacement operation in 2009.
"I was filming the BBC drama series
Missing
and had to do several takes where I got out of a car and walked up stairs. My joints were in agony and at first I thought it was my knee," she said. "But X-rays showed my left hip had almost completely worn away. Having a hip replacement in my late forties was a shock and, of course, I tried to make excuses about the reason why it had happened. But it came down to my weight."
Nevertheless, Quirke insisted that she has never let her weight put her off taking any acting roles.
"I've always chosen a part for the character and their story - never once has the character been the token 'fat one'," she added. "The women I've played have ranged from the head of a missing persons unit in
Missing
to a mother wrongly convicted of murdering a child in
The Bill
.
"The characters were real women and I hope I portrayed them that way. I've never felt my appearance or dress size has got in the way of my performance."