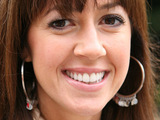 Sheree Murphy
has insisted that being a WAG isn't glamorous.
The actress, who recently
landed
a role in
Hollyoaks
, has three children with her footballer husband Harry Kewell.
However, Murphy told
The Mirror
that she struggles with loneliness because Kewell is currently playing for Turkish side Galatasary.
"It is lonely," she said. "I feel like a single parent most of the time. I'd love Harry to come home but I've never been one to stand in his way. Like any relationship, it's difficult. All you can do is trust that person and hope they're true to you."
She added: "Harry will always say, 'If you don't want me to go away then I won't'. But he's only got a few more years as a footballer left and he loves playing out there. They love him."
Murphy also revealed that she will join Kewell at the World Cup this summer when he plays for Australia.
"I'll be with the Aussie wives," she explained. "They're very laid back and the whole WAG culture hasn't really reached them. Over here, it's a bit out of control. I first felt it get crazy when Harry moved to Liverpool. There was more focus on the wives because the players were earning more money."
Murphy also insisted that she has an average life despite being married to a football player.
"Of course, a lot of young girls still aspire [to be a WAG]," she said. "They see it as this glamorous lifestyle. The reality's not like that. Half the time your fella's away - and most of us have kids. So mostly, it's everyday stuff, like taking kids to school and helping with homework. It's normal life."