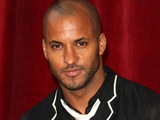 Ricky Whittle
has revealed that he has signed an American deal and will be moving to Hollywood.
The former
Hollyoaks
star described the opportunity as "massive" but wouldn't disclose any details about the project.
He told the
Daily Star
: "I've just signed a massive deal. I'm desperate to tell [everyone] about it but it's top secret."
The 29-year-old actor is currently living in a luxurious home in the Hollywood Hills.
He tweeted at the weekend: "Being a good boy tonight, staying in on a Saturday night learning lines."